Car Rentals Praslin, Seychelles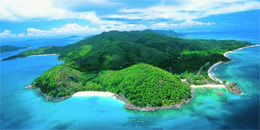 The chance to enjoy a vacation in Seychelles comes around once in a lifetime and is a truly memorable experience. With its many expansive and postcard perfect beaches, lush and enchanting forests and restaurants serving sensational cuisines, this destination offers holiday guests so much to enjoy during their stay. Car Rentals Praslin are available through Kreol Services and offer a reliable and cost effective way to explore the many attractions of Praslin Island.
While choosing from the most popular resorts in Seychelles is an important part of your holiday experience, making use of a highly regarded and trustworthy Car Rentals Praslin expert makes a big difference. At Kreol Services, the cars that are on our fleet are regularly serviced and we will deliver your car to the airport, hotel or jetty of your choice for added convenience. Praslin is the second biggest island of Seychelles, home to beautiful beaches like Anse Lazio Beach and Anse Georgette Beach. Discover the naturally outstanding Fond Ferdinand National Park and Vallee De Mai National Park in Praslin without the restriction of a waiting taxi – make sure your valuable belongings are safely stowed away if you do leave them in your car, or consider leaving them at your hotel.
By arranging your Car Rentals Praslin through Kreol Services, you can benefit from a choice of high-quality vehicles and exemplary 24/7 customer service. For your convenience, all our Car Rentals in Praslin come with fully comprehensive insurance and unlimited mileage, with guaranteed quality for your safety and peace of mind. Our easy and secure online bookings will make your vacation planning that much simpler.