Don't Park Under Coconut Trees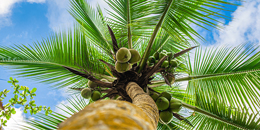 When it comes to beauty, there are few places in the world more stunning than Seychelles. This beautiful archipelagic country is known for its abundance of unbelievable beaches, water-sport activities, hiking trails and national parks that include the Fond Ferdinand and Vallee De Mai National Parks. To make the most out of your time in Seychelles, Car Rentals Praslin or Mahe are available through Kreol Cars at affordable rates to help you see and experience the best of this tropical paradise.
When visiting a new place, general safety is the number one concern for people. Thanks to the relatively low crime rate in Seychelles, tourists are generally free to explore and park almost anywhere. However, the most dangerous aspect of driving in Seychelles is not the roads or other drivers, but rather coconuts. Visitors unused to the tropical vegetation may not realise that a falling coconut can do plenty of devastation. The damage can range from denting your car to even breaking the windshield, which you will be held financially responsible for. Please remember to always check that you have not parked under a coconut tree. Stay vigilant!
At Kreol Cars, your safety is our priority, and while we can't protect you against wayward coconuts, we can ensure that your car rental is perfectly maintained and regularly tested. Whether you're travelling solo, as a couple, with friends or the family, our fleet is ready to accommodate any type of traveller with a wide variety of motor options from compact hatchbacks to SUVs. Book a car hire in Praslin or Mahe today and take your adventure to the next level.