Mahe Island Information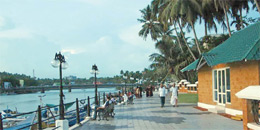 As the Seychelles largest island situated in the Somali Sea section of the Indian Ocean, Mahé is an exceptional island holiday destination with endless attractions. For guests travelling to Seychelles, Mahé is a popular choice for accommodation bookings, where some of the most popular resorts of Seychelles wait to offer guests luxury, breathtaking views and amazing facilities. Make the most of your trip by arranging a reliable Mahé car rental through Kreol Services.
The island of Mahé is home to Victoria, the country's bustling capital, with other must see attractions including the stunning Beau-Vallon Beach and Eden Island. The highest point of Mahé is Morne Seychellois Peak, and the Morne Blanc Trail is a great way to take in the surrounding natural beauty of Seychelles from a height, although this hike continues uphill for the most part and can be challenging for those who are unfit. One of the best ways to experience Mahé Island is by making use of our Seychelles Car Rental service, where all the cars on our fleet are quality assured and have fully comprehensive insurance. Takamaka Distillery has delighted many tourists over the years, where you can sip on locally produced, spicy rums and discover the beautiful forest walkway. Seychelles International Airport can also be found on Mahé Island.
As you vacation along the Seychelles gorgeous Mahé Island, you'll be making use of the local currently, which is the Seychelles rupee. It is also useful to note that you'll be driving on the left side of the road in Mahé, while understanding the road rules and speed limits make it that much easier to discover the best things to do in Seychelles.