Scooters are not allowed in the Seychelles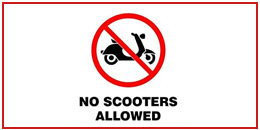 The idyllic Seychelles, located just off the East African coast on the Indian Ocean, beckons holiday guests from all walks of life as an all year around holiday destination. How you decide to discover the Seychelles is just as important as booking the perfect accommodation and choosing to include the ideal attractions on your holiday itinerary. In accordance with road safety regulations, scooters are not allowed in the Seychelles.
While our Kreol Services group offer safe and well maintained car rentals in Seychelles and the two islands of Mahé and Praslin, we do not offer scooter rentals. You will not find any legit and licensed companies in the Seychelles that may rent scooters or motorbikes to visitors, as these are considered high risk vehicles which are more often associated with road accidents. For tourists, the choice is normally made early on between a car rental VS taxi service for the duration of their stay. While making use of taxis mean no driving in the Seychelles, our car rental process is very straightforward and gives you the freedom you'll come to appreciate during your stay. The fact that scooters are not allowed in the Seychelles is just a precautionary measure. The cost of renting a car in Seychelles is very manageable, while our fleet of vehicles have cars suited to the diverse needs of modern travelers.
The road rules and speed limits in Seychelles are in place to keep locals and tourist safe, and the government's decision that scooter rentals are not allowed in Seychelles is another important one in maintaining safe roads for all. Enjoy every moment of your time in this outstanding tropical paradise and take in the profound natural beauty and many alluring attractions of Mahé Island and Praslin Island by renting a car with fully comprehensive insurance from Kreol Services.